Rally
Rally is an iOS app that allows users to seamlessly transition from discovering, making, and sharing plans for in-person interactions. Rally empowers this process by connecting friends who are actively wanting to make plans so that they can collectively support one-another through the plan creation process before sharing it within their social circles.
My Role
Rally is a solo venture so I oversaw all aspects of this project from research, ideation, design, testing and development.
Tools
Paper & Pen, Sketch, Photoshop, InVision, Principle, Swift, and xCode.
Define
After moving out of my residence hall from first year, I found it was harder to figure out what all my friends were up to at a moments notice as I wasn't able to just head across the hall and ask them in person. I now had to message them through a variety of channels in order to figure out if there was anything going on that night. Throughout the years, and especially after graduating, this problem has only worsened as we have even less free time and become increasingly unaware of when we can meetup with our friends to do something fun.
THE PROBLEM
Making plans with friends is analogous to playing Go-Fish where the "cards" are one's current interests or availability and the "game" is the process of finding common ground. The inherent challenge of Go-Fish is that we cannot see the cards of the other player and the only way to determine what they have is to explicitly ask.
THE Objective
Analogy aside, a solution to this problem space would be in removing the transaction of withheld information (i.e. interests and availability) between friends. By removing this barrier, people could more effectively coordinate around their friends as they would be more informed on their friends lives at a moments notice.
How might we help close friends become more informed about each other's lives when making plans?
- Design Question
Research
Research for how to solve this problem and how it affects people was focused on two areas. These areas were Online Research through Articles and Technology sites and User Research through in-person interviews. I outline these aspects in further detail below with regards to my objectives and how they relate back to the problem at hand:
Josh Constine from Tech Crunch wrote a great article about how "intent, not location is the most important thing when connecting people offline" and that, "current methods of calling, texting or posting on social media look desperate and attempt to reach took large of an audience."
I looked at a variety of technology and products available on the market that can be used for coordinating plans with friends. This research was used to determine both the competition this product would face and determine if there was any technology that could be built upon to build a better product.
I conducted 6 in-person interviews on participants that were either current university, graduate or recent graduates and had disposable income. The objective for these interviews were to get more in-depth knowledge on barriers that people encounter when orchestrating opportunities to hang-out.
Insights
After conducting all the interviews, all the data compiled for use as a guide for what the product would need to accomplish to satisfy the needs and desires of our proposed user base and to determine areas of opportunity for how we can improve upon the current process. The insights I gathered are the following:
Roles
Throughout the interviews it became apparent that there are a few types of roles that participants might take when they are either organizing plans themselves or engaging in a plan that another friend is organizing. It appears that there are two primary roles which I call the Social Convener and Engaged Planner. Using participants descriptions of how they engage in the planning process I was able to construct a few user personas for future reference as the product was being designed to ensure each role and their respective needs would be accounted for:
Current Process
The current process for making plans can be described as occurring in three stages: Determine Interest, Group Coordination, and Plan Execution. The area of opportunity, or area where the experience dips, is roughly around the group coordination stage and is mostly due to the difficulty of coordinating details with a large group. The full experience map of this process can be viewed below that highlights key moments and areas of opportunity within this space:
Follow Through (Pain Point)
Participants would conduct a form of plan insurance to maximize the success that what they were going to do would succeed. This could be seen in participants individually building a foundation of people they could fall-back on or by reaching out to groups for "specific moods" with a proven track record of following through with a plan. Reasons for why they themselves would not follow through with plans were because they were no longer in the mood, it was too difficult to coordinate, or people started dropping out.
COORDINATION (FRUSTRATION)
Participants noted that as the number of people involved increases, so does the difficulty of planning a hangout that works for everyone. Whereas, when these plans are made with one or two people, coordination wasn't an issue at all. Participants stated that a part of this problem comes people being indecisive, non-responsive or tools generally lacking.
Refine
With the problem space, process and users figured out, I took those insights and started looking at ways that this product could help alleviate the pain points and frustrations my participants illustrated. Based on the data I gathered, I was able to narrow the focus of this product to intent and availability and how they are communicated between users as depicted below:
Intent Matching
Of the apps I looked at, Mappen has the closest solution to this problem as they allow users to use emoji's to display what they are currently doing and that they want to do something. Their approach is to let users share what they are currently doing so other friends in their social circle can join in. They also allow users to broadcast a form of intent through a specific emoji that denotes they are interested in doing something, but this approach is unfortunately vague and would still require users to go through a process of need alignment. The product I am creating would take the inverse approach and allow users to broadcast a more specific intent of what they want to to do, rather than having to rely on joining in on what someone else is already doing. This would allow users to connect with other friends that are in a similar mood, who are also in the intent stage, when they are most likely on their phone searching. This solution can be likened to how a prism refracts light. A user would come to our app (prism) with the intent (white light) to make plans with friends. Our app (prism) would take that raw intent (white light) and focus it into specific moods or interests (spectrum of light) as depicted below:
DYNAMIC SCHEDULING
A few users brought up Doodle Poll as a tool they currently use to coordinate when would be the best time to organize an event or plan with large groups. The downside is that users have to wait for people to fill it out, as they might not know their schedule at that current moment of time, haven't seen the link, or they are just being non-responsive. Furthermore, users have to repeatedly fill out these forms whenever they make a new plan as it is specific to that particular plan rather than being connected to a saved calendar that can be referenced as needed. The coffeeshop I worked at during University used a system called WhenToWork that allowed employees to set preferences for when they wanted to work. This system was used as employees were all students so all their working hours had to be structured around their class hours. As a user, we would be able to set specific times or blocks of days that our employers could schedule us. On the employers end, all the employees schedules are automatically slotted by the system around their collective availability thereby reducing the logistical input on their end. This solution can be viewed as layering the schedules of two or more people. Areas where there are no conflicts at all will be given greater emphasis, as denoted by the "checked boxes" whereas days that work for only specific people will be denoted by "profile pics" so that groups can determine who has the conflict.
Constraints
With the core value that this product would be providing to users figured out, I started looking ahead at potential areas that might prevent the product from being successful if it were to go to market. The goal was to incorporate these aspects from the start so that they could be unobtrusive to the complete experience I was creating.
EXPECTED FEATURES
Interview participants noted a few apps that they use that allow them to make plans with friends. I have outlined these products below and added some other products that are also popular right now to get an idea of the features that would be expected for this type of experience.
Social Ubiquity
In order to succeed as a social app, users need their friends to be on it and for there to be reasons to come back, and keep on coming back even when they aren't going out. With this being a new social networking platform, there is an uphill battle as users already have products they regularly use and aren't really looking for another product based on the interviews I conducted. Some methods that I found that could be used to help maintain engagement as well as draw in new users are the following:
Tinder and Bumble use Push Notifications to encourage their existing user base to check-in. Using the example, users are opening the app as it is suggested that they are more likely to get a match if they do. This tactic can be implemented in my app by letting users know when there are plans being made so that they can potentially jump in on the action. This would play on the idea of FOMO (fear of missing out), something the user is hoping to avoid through use of this product.
Revenue Generation
All of the current solutions in this space are free to use which makes sense as they keep a low barrier of entry for new users as people would only use these types of apps if their friends are there. With this being said, in order to sustain this app there has to be a way to generate revenue. One option is through Mapbox, used by companies like Snapchat, as it opens up the door to targeted advertising through a business model similar to Google Maps. Since users might not always want to organize hangouts at their places, they could want to go out. Using the aforementioned Mapbox integration, users could find things to do based on their current interests that they could connect with their friends over. Businesses would benefit from this as they are able to target users based on what they feel like doing, when they are most in the mood to do those things. Furthermore, for events it could be possible in the future to allow users to purchase tickets to events through the app as a secondary revenue stream.
Frame
Taking all the research, ideas and constraints into account, I started looking at similar products I could use as a basis for the experience I was seeking to replicate based on user needs. The three apps that I ended up using as inspiration were Bumble, Mappen, and Airbnb experiences as explained below:
Unlike most dating apps, Bumble allows a user to select modes to broadcast and connect to specific groups of people with a specific type of goal in mind. Their dating mode also allows a user to set preferences to further match up with people who share the exact same goals and interests. This same concept could be used in my app to allow users to connect with friends in their social group that are currently share the same interests.
Like Snap Maps, Mappen allows a user to coordinate locations with a set friend group. However, unlike Snap Maps, Mappen goes further than that by allow users to set status's for they are actively doing or create plans that can be joined by other friends. This could be paired with the mode selection indicated above to help visually show what friends want to do all while helping coordinate by location to find things to do that are nearby both parties.
While Airbnb is primarily known for house rentals, users are also able to search by "experience" which are locally hosted activities that visitors can pay to partake in. In the app I am creating, this setup could be used to help users search for local events, or things to do in a specific area while filtering by a specific budget.
Sketch
Inspiration was drawn from the above three experiences as well from the current products on the market that users typically use to ensure that the UI of my experience would be familiar in that regard. The eventual sketches I landed on were a map-based app that can be viewed as having three layers to the experience. These early sketches that would be used to inform the design of the mockup for user testing can be viewed below:
Design
In approaching the design of the product, and the experience to a larger extent, I wanted to create a brand that conveyed a sense of being fun but also structured, much like how the planning process can be. The term "Rally" communicates a lot about what the brand is trying to accomplish. It can be defined as:
"a mass meeting of people showing support for a cause" or

"troops coming together after a defeat or dispersion"
Both of these definitions communicate what the app is seeking to accomplish by bringing people together over a common objective. This is furthered by the actual design of the word mark which attempts to visually communicate the planning process as depicted below:
Colour
For colour I took a similar approach to Instagram where the majority of their app is neutral so that the content, the true focus of the app, is emphasized. For Rally, the content is your friends, the things you can do and the actual interests that users have and want to convey. Since users would be seeking to connect over common interests, this had to stand-out within the app ecosystem. Drawing from the Prism metaphor and looking at Mood Rings as inspiration I assigned a category of interest to a specific colour so that users would be able to easily identify what mode they are currently set as, while also being able to easily connect with friends who share similar interests by visuals alone.
HI-FIDELITY MOCKUP
The following screens showcase how specific aspects of Rally connect and interact with one-another. This is only a portion of how Rally as a complete app would function as I've only been completed the intent and general framework of the app so far. Where the availability aspect of the app plays into this whole system is hinted at but won't be visualized until the chat screens have been designed. All the work that I have animated, and the purpose of the respective screens, can be viewed below: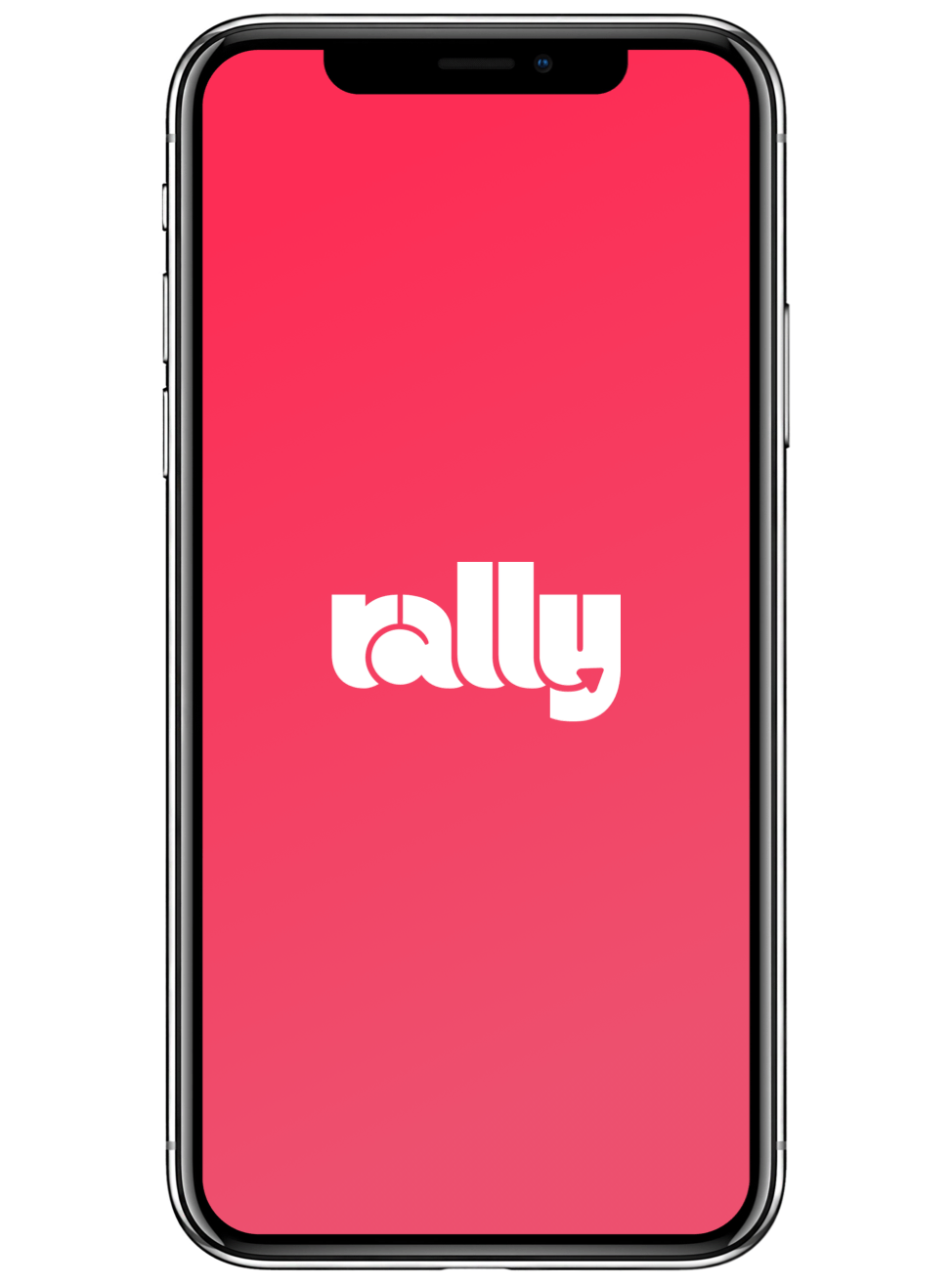 Users are able to swipe through a variety of filters based on what they are in the mood for or how they want to connect with their friends. Users are able to select the preferences button to re-adjust who they want to connect with if it differs from their usual group they hangout with.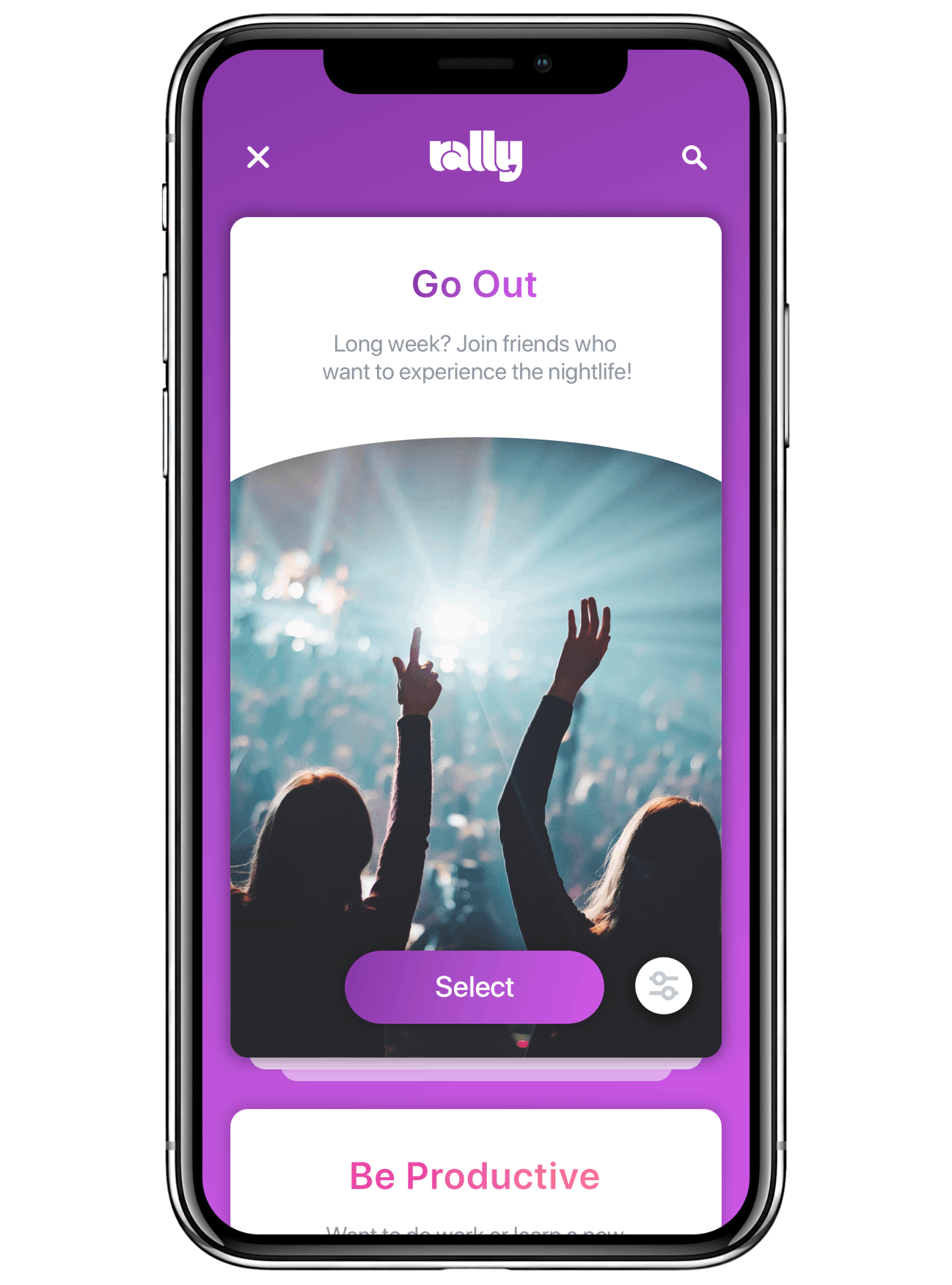 The primary app colour assumes the colour of the users "mood" or "interest" and filters all the following data with that in mind. The home screen serves to also remind users of what mood they picked in-case the can't remember by colour alone. Users are able to add a prompt to let friends know what they want to do or they can just view who is currently available and make plans that way.
Users are able to view public events that are going on in their area or find places they can go to. Businesses could pay to display their own events in this section. If users find something they like, they can save it to a list which can be viewed in their chats or through their profile page.
Users are given the option to create their own events (set plans with already established details) or plans (spontaneous get-togethers over current interests). Both options require users to have some general information known, such as location, that people within their friend group can rally to.
Users are able to view any message they have received here or view what their pre-set groups (squads) are up to. Any plans or events that a user has joined will also show up here where they will be able to view all the details or access the specific chat associated with each. Updates, reminders and invites will all show up under the notification icon.
Users can view how much longer their current "interest" is going to be displayed for or access a variety of other settings or features. A user can adjust how long they are "broadcasting" through the top right gear icon.
The guiding principle behind this product is the idea of Focus, not Force users into a set choice when they use the app. What this means is that when a user selects a mode such as "Go Out" they are still able to access and see the same information and details that another user who selected a different mode sees. Essentially data would be filtered to put a greater emphasis on what is more relevant to them. Users who select "Go Out" are going to see events, places and friends who fit under this category first, before they are presented with results that would be more relevant to a category such as "Have Fun".
Usability
Rally as an app has gone through three major iterations with the previous two versions being iMessage apps. Unfortunately, designing a comprehensive experience such as making plans proved difficult to do in this space and resulted in a less than ideal user experience. Due to this, I pivoted and redesigned the full app as the standalone app it is now in v3. Despite pivoting, I used as much of the insight as I could from the previous tests to structure v3, and in v4 I hope to expand on this by adding more familiar UI patterns while creating a more consistent look.
Next Steps
Rally is an ongoing project that I will be working on as a side project with the eventual goal of launching to the App Store. At the time of completing this write-up, Rally has evolved and gone through a few more changes in the pursuit of getting closer to aligning to the value proposition I initially outlined. Looking ahead, the next steps I am taking with this product are the following:
I am currently learning Swift so that I can develop an MVP of Rally for iOS after I finish the design of a few more screens and complete a few more rounds of usability testing. The MVP will focus on matching users over intent and getting them into a chat to begin creating plans.
I am looking to allow users to access things such as events and saved places within an iMessage app (rather than the full-app) as it would allow users to more readily share experience in a space they are already familiar with. Building this experience will also hopefully reach holdouts (people who haven't downloaded the app) through sharing app specific events and information which would prompt them to download the app to view.