CUCOH
Type: Service Design
Duration: Feb 2017 - Present
The Canadian Undergraduate Conference on Healthcare (CUCOH) is a three-day student-run conference at Queen's University held annually in November. CUCOH exposes undergraduate students to a wide array of professions in the healthcare industry through inspiring keynotes, engaging case challenges, interactive workshops and a research competition that showcase the multidisciplinary nature of healthcare. Not only is CUCOH the largest conference at Queen's University, but it is also the largest student-run healthcare conference of its kind in Canada welcoming over 360 delegates from 25 schools across the nation every year.
My role
My official role was to oversee conference catering but gradually transitioned into a service designer position to restructure systems and processes to create a more streamlined conference with the goal of creating value for our delegates and executive team.
CUCOH is a unique conference as in-addition to our shared group events we offer moments where delegates can shape their experience by selecting workshops and topics (in our seminars / case challenges) that fit their interests to make our conference uniquely their own.
The reality, which I learned through our feedback forms, is that when delegates register for our conference they set preference rankings for what they want to attend, which our team then slots for after the fact based on room capacities and available facilitators. Our delegates would essentially be paying for a pre-conceived notion, or wish-list, of what they wanted their conference experience to be, and wouldn't find out what they had gotten until they had arrived at our conference. Since we have delegates who come from as far as British Columbia to experience our conference, you can imagine how devastating it would be for them if they paid both the ticket price and travel expenses all to not get the experience they thought they were going to get.
As someone who had spent the previous year promoting our conference as something that gave delegates agency in shaping the experience, it didn't sit well with me that our registration system felt like a slot machine, and not even one of those fun ones with the lever! Therefore, in-addition to my new role as logistics coordinator, I took on the task of restructuring registration to figure out a way to give our delegates the agency we marketed our conference as having.
Registering for our conference feels like a slot machine, as delegates are uncertain of what experience they will get until after they have paid.
Why should we spend the time ensuring that our delegates feel confident in what they are purchasing? Well, this level of uncertainty in selecting experiences could be negatively influencing "brand confidence" and impacting how long our registration period is as __% of our delegates, on average, hear about our conference from their friends or ambassadors (word of mouth).
At a conference level, a long registration period impacts our team as we have deadlines with external vendors for when we can last makes changes which has resulted in us having to close registration before we are at capacity, thereby losing money that could have gone towards funding talent or new initiatives to improve our conference. We also can't simply move our registration start time up, as our executive team takes awhile to confirm who will be speaking at our conference as they are just getting back to University and slotting speakers too early opens us up to potential booking issues and potentially having to make changes after delegates would have made their selections.
By allowing our delegates to know exactly what they are paying for, and will experience, before they arrive at our conference it will go towards meeting expectations and the likelihood that delegates will go on to recommend our conference to their friends and peers. Essentially our delegates would become our own sales team, with a greater reach and trust than what our team could possibly do, so that we could potentially achieve a shorter registration cycle and still reach our goal with less stress on our executive team.
Changing our registration setup to ensure that our conference delivers on expectations, will improve brand confidence and lead to a quicker registration cycle through positive word-of-mouth referrals.
When taking on this design challenge I had barely been with CUCOH for a year so there was still a lot about the conference I knew nothing about. Gaining context for how our conference came together as a whole seemed like the best place to start. The goal here is to learn what our delegates' current perception of our "brand" was and where those negative perceptions were localized in our experience, through exploratory research, before determining how we could go about making changes. This would allow me to learn about other potential problem areas our delegates, and even our executive team were having, to ensure I wouldn't be blind-sided by something like our registration setup again. Establish a clear and repeatable process for how we market and conduct registration each year.
Before making any changes, I conducted some research that focused on the following three areas to gain insights into our conference and audience for what we should focus on:
The first hurdle I had to overcome was gaining actionable insights on our conference, as we didn't have an organized system in place to track data throughout the delegate journey and conducting interviews with former delegates was not something on my radar of tools I could utilize at the time.
What little data we collected was through our delegate feedback form, which captured quantitative (ratings) and qualitative (comments) after the conference had ended. Since our conference allows delegates to select the experiences they want to attend, and our speakers change each year, our forms are severely bloated with all possible options a delegate could experience.
This in-turn made it difficult to pinpoint exact problems areas, and how much of a problem it was, without direct contact to follow-up on ratings or adding more questions. Therefore part of this role was focused on trying to draw meaning from these trends, and gain actionable insights on the root issues and unmet needs of our conference.
Context through our delegate comments was important here as just looking at the overall trend for our 2017 ratings (the year I started making changes) it would appear that I potentially made the wrong changes, even though those same changes, albeit fine-tuned, resulted in higher trends in some areas for our conference in 2018. By compiling this data, and looking at the relationship between our quantitative and qualitative data, I was able to align our delegate feedback to two themes to figure out the current perception of our "brand" and they might bring up when talking about our conference to others or friends:
ENGAGEMENT
Delegate Need
Delegates loved moments that felt more engaging where they were able to interact with others. These moments can be seen in smaller group sizes where they are able to collaborate directly with our speakers and other students from other schools or our hands-on workshops. Topic wise, delegates want to learn something new that is thought-provoking and feels personalized to them. Overall, delegates have a desire to maximize the value of the moments they have at our conference given the price-point.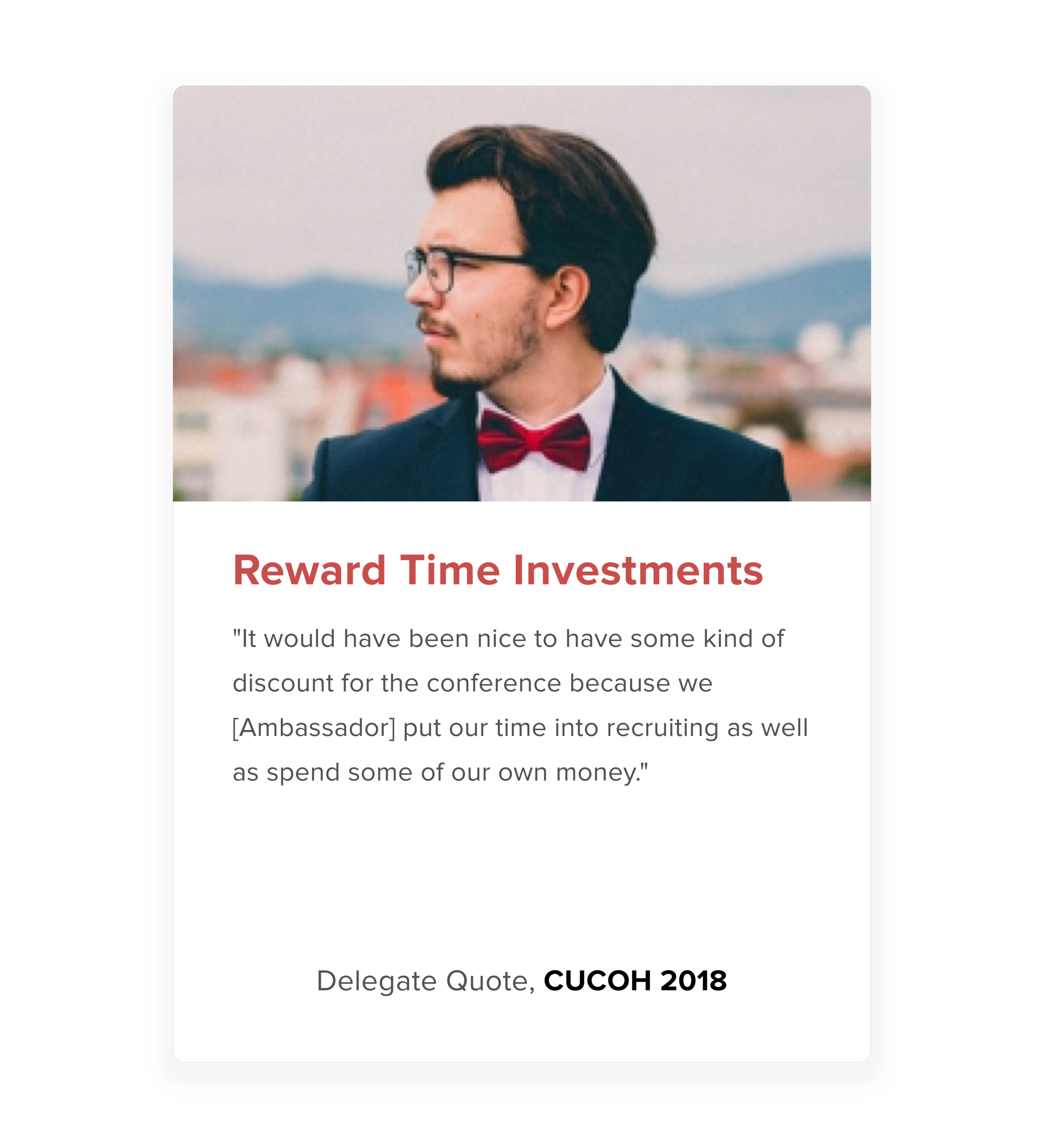 Uncertainty
Delegate Frustration
Our delegates noted that there was a lack of information leading up to and during the conference which lead to a general sense of uncertainty. Throughout their experience, delegates were unsure of what our conference entailed, what our experiences were about, how registration factored into their actual experience, and even how to navigate our conference space for delegates coming from other schools. Overall there appeared to be a desire for more information so their ticket purchase didn't feel as risky.
So this data paints a picture of what our delegates think is both working and lacking in our conference, but who are these delegates? Initially when I had compiled all the insights and demographic details from our conference I was able to narrow down our audience to a few different types which if I knew of the concept, would have been made into "personas".
Since this work was largely an independent venture at the time, this information stayed as notes that I kept in mind and referred back to when I was designing to ensure delegates at different stages of the delegate journey were accommodated for. For the sake of clarity in communicating how this vision for our conference systems and process is truly user-centric, I reformatted those learnings as actual personas which can be viewed below: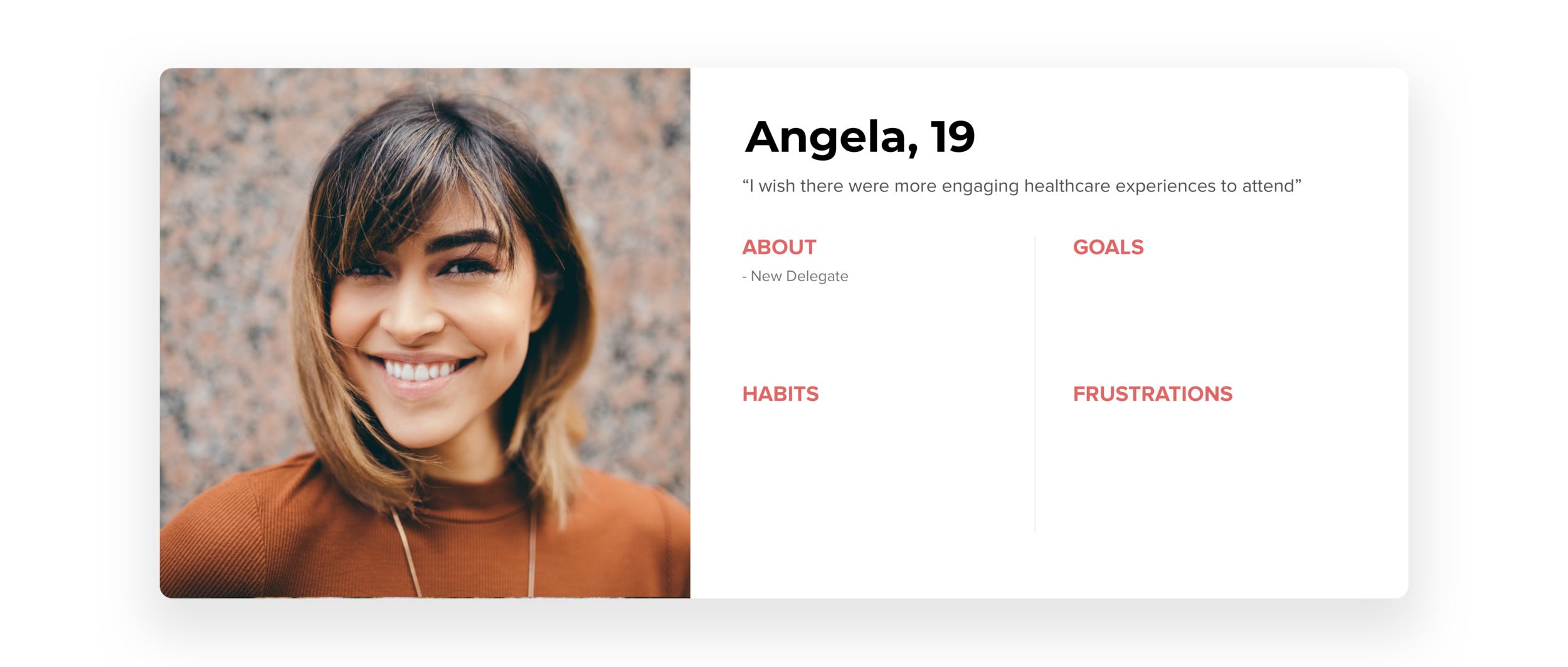 For Rachel and Kristie, our new delegates, the theme of "uncertainty" impacts them the most as they may be learning about our conference for the first time and don't have a previous CUCOH experience to draw from. Unlike Kristie who was referred by a friend and can form a level of trust for our conference based on that recommendation, Rachel likely stumbled upon our conference and we have to build trust from scratch.
For Joshua and Anna, our past delegates, the theme of "engagement" impacts them the most as they have already experienced our conference and therefore their decision to attend again would be based on how the felt about that experience. For Joshua who registered early and got all of his top choices, this is an easy decision to make, but for Anna, who registered late and didn't get any or all of her top choices, this would be a harder decision to make.
All four of these delegate personas, while at different stages right now, would have had to engage with our conference touch points and exec members, like Angela, at one point in their CUCOH journey. Due to this, I focused on our Rachel persona as of all the personas, as she starts from no knowledge of our conference and would therefore require the most information and would interact with the most of our end-to-end touch points. After establishing this baseline experience, I could then determine where our other personas fit in, and cater to their needs, to ensure our systems and processes were versatile. The overall journey of our Rachel (new delegate) persona as they go about interacting with our 2016 conference experience can be viewed as the following:
By looking at all of the insights gathered from research it is clear that just allowing our delegates to know exactly what they are paying for when they register, while a big issue, won't fix all the issues present with our conference.
This feeling of uncertainty is present throughout their end-to-end journey as they interact with our conference and exec team from that initial moment of becoming aware of our brand all the way to actually experiencing our conference. Even if our delegates can get past this feeling of uncertainty and make that risky purchase, the actual experience in some areas doesn't live up to their expectations of engagement given the price-point they are paying.
In order to truly solve this problem and align our conference experience to that of our delegate's expectations, there is a need to restructure our conference at all stages. Before we can improve the periphery touch points of our core experience, we must first start at its foundation, the schedule, to ensure we can maximize engagement and have something that can be clearly communicated accurately at all stages of the end-to-end experience.
How might we deliver on an engaging conference experience?
The second hurdle I had to overcome was in determining how all of these delegate needs influenced a new setup, accommodates our stakeholder and conference objectives and, maintains the spirit of what delegates had come to expect from our conference. Even if I could come up with a solution that could theoretically provide the most engaging conference experience ever, it would be moot, if it wasn't feasible for our team given our constraints.
For context, at conference level we are constrained by the amount of rooms, equipment, facilitators, time and budget we have, so every decision over the past three years had to be proposed to our team to ensure it was possible. Additionally, a level or foresight was also needed to make sure that however we structured our conference would allow delegates to make selections that was representative of how our conference was actually going to end up as.
If this seems overwhelming, that's because it was essentially like playing Tetris with more elaborate shapes, but I approached this monumental task by focusing first on a structure that would allow us to evenly distribute delegates to our experiences to ensure parity in what they were paying for. The underlying structure that I proposed was the following:
Rather than delegates ranking the experiences they would like to attend by type (i.e. seminar topics and workshops), delegates would be able to select what they wanted to attend by selecting an experience by time which I referred to as "Experience Blocks". The offerings within these blocks had been pre-set by our executive team to ensure that our team would be organizing facilitators and speakers that could work for these times as an added constraints.
Within these blocks there would always be 2 seminars, 1 research oral and, 4 workshops occurring simultaneously. This number was important as for each block, five in total, a delegate had to have the option to select an option that was different than what they had already selected to prevent repeating experiences or lock-out. How all of these "Experience Blocks" fit within the general schedule for our 2017/2018 schedule can be viewed below in relation to our 2016 schedule:
Unfortunately the changes I made, while mathematically allowed us to allocate delegates evenly across the experiences we offered, wasn't without its drawbacks. If we look back at the ratings graph from the insights section (reproduced and focused below) an interesting trend formed for our 2017 and 2018 conferences. Essentially, the balanced ratings of our 2016 conference between our seminars and workshops were replaced by drastically higher ratings for our workshops and lower ratings for our seminar topics. This is interesting as our workshop offerings and how we structure them don't vary each year so the ratings shouldn't differ that much.
Based on our comments though, it appeared that some delegates were sacrificing desired seminar topics in order to get into specific workshops, which isn't too surprising given the theme of delegates looking for a more engaging conference experience which can be achieved through our more interactive and hands-on workshops. This problem was exacerbated by time conflicts as some workshops and seminars were only available at certain times which wasn't an issue in our 2016 conference as our exec would evenly weigh topics and workshops based on preferences and we could move experiences around to maximize allocation since delegates weren't slotting themselves. These trends can be viewed below:
This was a major problem as while delegates were able to know exactly what they would be attending, we didn't want them to feel like they had to make sacrifices when making those choices. An ideal structure would allow allow our delegates to attend both the workshops and topics they wanted to attend without having to worry about when those experiences were scheduled. This formed the basis for how I went about constructing a new foundation for our 2019 schedule around what I call "Breakout Sessions."
The jist of the changes I made were to emphasize the moments of our conference that allowed our delegates to interact with one-another through our case challenges and workshops. These two types of experiences are also similarly constrained, unlike seminars and research orals, as they are work better with smaller groups due to the level of engagement which made it easer to have them rotate with one another. By moving our longer case challenges to a more prominent role that occurred throughout our conference, we were able to fit three consecutive workshops within the slot so delegates could try more workshops (a common request). This put more emphasis on being able to select a desired topic, as all workshop types would be available during each session, thereby turning this into selection preference, rather than a sacrifice. The only choice delegates would have to make would be whether they want to attend more case challenges or more workshops. How a delegate would go about making their selections can be viewed below:
Cool, but what where did the seminars and research orals go? Well, just like how our case challenges and workshops are similarly constrained, our seminars and research orals are also alike as they are more like presentations, and therefore their only real constraint is maximum room capacity. Since our Breakout Sessions are large blocks, the only real place we have left for our research orals and seminars would be to have them run as the rotational experiences with our lunch blocks.
This is perfect for our delegates, as the benefit of having these experiences rotate solely against our lunch blocks is that they aren't limited by a previous selection, time conflict or, a need to limit capacities so that they can rotate. There is an opportunity here to bring back our preference system from our 2016 conference and allow delegates to select the exact talk they are most interested in attending, with whatever they didn't pick would serve as their lunch break!
This setup would allow our team to cater to demand for particular seminars and research orals, without putting on an artificial room capacity to allow for smooth rotations. Seminars could even serve more as "Industry Chats" (a proposal for our 2020 conference) to further differentiate our experiences and account for topics that wouldn't work as case challenges. This would provide a moment where delegates could have that desired networking with healthcare professionals in a field of interest (another common request). How all these changes come together into the proposed 2019/2020 schedule can be viewed below:
How might we deliver on an informative end-to-end conference experience?
With our general conference structure figured out that could potentially accommodate our delegate's need for a more engaging experience, my focus was then put on how we might tackle the larger issue of uncertainty.
Looking back to Rachel's experience journey, additional comments we received through our delegate feedback forms and, talking with our executive team, I was able to pinpoint areas within our end-to-end process that were lacking and influenced this feeling of uncertainty.
For the sake of focus in this case study, the following are very high-level overviews of the problem at hand, rather than and in-depth look at each touchpoint, as they could each serve as their own case study.
Delegates indicated that the only way people would know what to expect is if they had been before. Information on our conference is scattered across our channels which required delegates to search around for a complete picture of our conference experience.
When making their selections, delegates were asked to indicate their preferences for the type of experiences they would like to attend. How these experiences were allocated were not indicated as it was a back-end process done after the fact. Therefore delegates would only determine what they got when they arrived at our conference.
Delegates were allocated based on their experience preferences within a one-time-use google sheets document. While our team has a check-in process to see who arrives, this document is inaccessible in terms of being able to quickly glean insights and take actions in terms of reallocating delegates to newly available experiences.
Delegates are given deliverables such as their ID tag with the experience selections they have been assigned as well as a delegate handbook with additional resources. Delegates have difficulties figuring out how their selections (printed on their small ID) apply to our conference schedule at large in addition to how to get where they need to go.
Our feedback form is bloated due to use having to list all possible options our delegates can have. This limits us from gathering more specific insights at the risk of overwhelming our delegates.
The third hurdle I had to overcome was taking those outlined problems within our end-to-end process and touch points and figure out what a solution would look like. Since we already have conference infrastructure in place for how our executive go about organizing our conference, I had to balance keeping it familiar enough that our team wouldn't have to relearn how to run our conference in addition to planning it.
There was also the other issue of my own capabilities as I had never designed a registration, mailing list, website or slotting form before, so I had to find the time to teach myself good practices, while maintaining my other commitments as at the end of the day this is an unpaid extracurricular.
In the future, I hope to add branching from this point that outlines the iterative process for each of these touch points, but at this point of time I am once again just going to keep it at a high level overview of what the solution was as it relates to how it goes about solving a problem a delegate or exec member outlined.
Redirect all content across our marketing channels towards our website for a comprehensive overview of all aspects of our conference experience.
Form built around a live inventory so delegates can pick their exact experiences and conditional logic scripting for personalizing information to the specific user.
User-friendly and readable allocation form so any exec member can provide second-chance slotting into open experiences on a dynamic basis as delegates are checked-in.
Personalized deliverables for delegates curated to their conference experience in addition to quick access to resources and tools for use in navigating our physical space.
Conditional logic based feedback form to get granular feedback on the specific aspects delegates attended while removing the one's they didn't. Emphasis on our net promoter score as our new success metric.
Congrats on making it this far into this case study as some of this content can be detail heavy but luckily I can demonstrate what all of that work was going towards. Rather than simply outlining what these systems do, I am going to breathe life into the process by bringing back our Rachel persona to demonstrate how the interactions between system and users in the pursuit of a user-centric experience.
As we follow Rachel through her journey from initial discovery of CUCOH, all the way to reflecting on her experience, I'll make note of what she is doing, and what it accomplishes, as it relates to how it will go about addressing that initial hypothesis.
Goal: GAin awareness
Success Metric: Link Clicks
Touchpoint: Facebook Posts (trigger)
While scrolling aimlessly through her McGill University year group on Facebook, Rachel stumbles upon a shared post by Joshua (past delegate) about CUCOH regarding the announcement of their theme. While Rachel isn't familiar with CUCOH, she is intrigued by the brief glimpse of what CUCOH has to offer. Since Rachel is currently a Life Sciences student, she sees this as a potential opportunity to build on her current interests and experience something different than her typical university curriculum. With her interest piqued, she clicks on the link to determine if this conference is right for her.
Goal: Determine Value
Success Metric: Mailing List Sign-up
Touchpoint: CUCOH website (web)
Rachel arrives at the landing page for CUCOH.com and is immediately impressed by the professional looking website, which gives her the impression that this isn't a typical student-run conference. Compared to her aimless scrolling through Facebook posts, Rachel begins to scroll through our home page with purpose in search of understanding what "CUCOH" is really about.
As she explores our content, starting at our homepage but venturing primarily to our "about" and "schedule" pages, she is repeatedly notified that while our registration period for our conference hasn't yet begun at the time of her viewing, she is able to sign-up to our mailing list to get notified the moment it does. Already interested in the conference after her brief search, and not wanting to miss out on such a unique opportunity, she signs up for our mailing list and is encouraged to like our Facebook page to follow along with updates. While Rachel does return to Facebook to continue aimlessly scrolling through her Facebook Feed, she doesn't follow through with liking our page at this time.
Touchpoint: Mailing List
Late September arrives and Angela (exec member) kicks off our registration period by emailing all the potential leads that signed up for our mailing list that registration is in motion!
Rachel, having completely forgotten about CUCOH at this point in time since she didn't like our page, is reminded of our conference and the initial interest she displayed. She follows the link provided in her email to see what updates have occurred since she last checked and to consider purchasing a ticket.
Goal: Register for CUCOH
Success Metric: Conversion Rate
Touchpoint: Ticketspice (embedded)
Rachel arrives directly to our registration form directly embedded on our website and is prompted by a quick chat pop-up in the corner of her screen notifying her where she can go if she has any questions regarding CUCOH. Rachel doesn't have any questions at that moment, but feels reassured that she has somewhere she can go should she need it.
Rachel begins her registration by filling out the form with general information about herself that she expected to be asked when registering for a conference. While she wasn't expecting to be able to select a meal, she appreciates the option knowing she won't have to worry about what she will be eating and whether she will like it. After filling out her personal details she skims right over the directions (I, miles away, cry) and continues to "build" her schedule. Having forgotten about the general schedule and missing out on offering announcements, she appreciates being reminded of what CUCOH entails and how her selections fit in within the context of that experience. Despite skipping the directions, Rachel is prompted by "help tips" to guide her selections as she goes about completing her schedule, and selection captions ,which gives her confidence in what she is selecting.
Touchpoint: Intercom
As Rachel is filling out the hotel accommodation section of the form, she realizes she hasn't considered how she is going to get to the conference!
Worried about this oversight, she messages Angela (our exec member) who reassures her that there is an external ambassador at her school who will help organize group transportation to the conference. Feeling reassured, Rachel is able to finish up her registration form after giving it one last "once-over" and clicking submit.
Goal: Prepare for cucoh
Success Metric: Email Opened
Touchpoint: Personal Email
Moments after clicking submit, Rachel receives a notification that she has a new email and proceeds to her personal inbox. From there, she notices an email titled "Registration Confirmation for CUCOH 2019" and opens it. Inside she is presented with a warm welcome from the CUCOH team and is provided some next steps she should take leading up to the conference weekend.
After skimming over the general email and checking to make sure her selections were the same, Rachel adds her ticket to her phone as she doesn't have a printer at home and doesn't want to risk losing it should she make the effort to find one. Once her ticket is added, she heeds the call to action of the first step and requests to join the Delegate Group.
Feeling curious about who else is attending CUCOH after being accepted into the group, Rachel explores the members list and sees some familiar faces from her Life Sciences class in addition to some unfamiliar faces from schools across Canada. After exploring the members list, Rachel reads over the pinned post outlining the next steps she needed to complete from the email. Now at maximum hype for the conference weekend and getting to meet all these new people who share her passion for healthcare, she proceeds to make travel plans.
Goal: ATTEND CUCOH
Success Metric: Check-In Percentage
Touchpoint: Facebook Group
While in her morning class the Friday of the start of CUCOH, Rachel gets a notification on Facebook drawing her to the delegate group. On the delegate group page she sees another post by Angela providing some general information regarding the start of the conference and where to go before they receive their delegate resources. After her class ends, Rachel meets up with her fellow students and external Ambassador at McGill University and begins her journey to Kingston, Ontario and CUCOH.
After arriving in Kingston by bus, Rachel drops off her stuff in her room and hangs out with her roommates until it is time to leave for the opening night events of CUCOH. As she is getting on the shuttle to the conference venue, she looks up the post from that morning while she still has wifi to feel reassured her that she is arriving at the right time since she hasn't received her full schedule yet.
Touchpoint: Ticket Scanning
Upon arriving at the conference venue, Rachel is greeted by Angela (in-person finally!) where she is asked if she has her ticket. In a moment of panic, Rachel realizes she doesn't have the ticket printed, but remembers that she added her ticket to her phone.
Rachel pulls out her phone and displays her ticket which is quickly scanned by our exec member before ushering Rachel towards a table where she is able to pick-up her delegate swag and check in her coat.
After having her ticket scanned by an executive member, Rachel is logged under the "Check-In" column of our delegate allocation form for future use in delegate information look-up. Should Rachel want to make changes to her schedule (in the case she was a late registrant), she would be able to be slotted into vacancies where delegates had not shown up after the check-ins on the Friday night and Saturday morning.
Goal: CONNECT TO CUCOH
Success Metric: Unique QR Scans
Touchpoint: Delegate ID Tag
After handing her coat to the on-site staff and receiving a ticket for claiming it later, Rachel heads to the registration table and is given a delegate swag bag before asked for her name for her personalized delegate notebook. After providing her name, Rachel is handed a CUCOH lanyard with a numbered ID tag and a sleek black notebook with subtle CUCOH branding by an exec member.
Expecting, the notebook to contain her schedule for the rest of the weekend, she opens it and is confused it is just a plain notebook that she can take notes in. Feeling confused, Rachel seeks help from an exec member (distinguishable through a different ID tag colour) about when she will get her schedule.
Touchpoint: ID Tags
Angela, our resident omniscient jack of all trades, directs Rachel to sign her blank ID tag attached to her lanyard and informs her of our CUCOH Hub, only a quick scan away, that provides access to her schedule and will help her navigate the conference venues and learn more about our speakers.
She reassures Rachel she will be provided with a wifi connection throughout the conference weekend to access this information and that even if she isn't familiar with QR scanning, that our exec will be doing a brief walkthrough when all delegates are seated in the auditorium before our first event begins.
Touchpoint: CUCOH Website (mobile)
During the presentation, Rachel connects to the local wifi before opening her camera app on her phone to scan the QR code on her ID tag. After scanning, she is prompted with a link that takes her back to the CUCOH website but with a streamlined interface that allows her to quickly interact with the conference experience.
Thinking ahead, Rachel selects the action button on the bottom of the screen and saves the CUCOH Hub to her home screen to save her time when she needs to access it again. Now set up for the weekend to come, Rachel sits back and enjoys the Theme Discussion.
Goal: Experience CUCOH
Success Metric: Unique Page Views
Touchpoint: CUCOH Hub
The next morning (Day 2 of CUCOH), Rachel, eager for what the rest of CUCOH will be like after loving the Theme Discussion last night, takes the shuttle once again to the conference venue. Upon arriving she is directed to the registration table where she checks in her coat, expecting to be handed a ticket but is instead asked for the number on her ID tag as she has a pre-assigned number for conference operations. Rachel, impressed at the convenience of the system and not having to worry about losing her coat ticket, begins to head towards the table of breakfast items calling her name.
Before she is able to leave, an exec member who was looking over her schedule after seeing her tag # mentions that even though she didn't make any schedule requests on her form, that if she changes her mind, our team is capable of moving her as we had some delegates not show up. Already satisfied with her schedule, Rachel thanks the exec member and heads back to the breakfast table on a mission.
After eating breakfast, Rachel opens up the CUCOH Hub that was conveniently saved on her home screen and selects the "Your Schedule" button. After scrolling down to the Saturday schedule, Rachel views her first scheduled event (which is the Casting Skills workshop) and clicks the plus button to view more information and get directions to which room her experience takes place in.
Goal: Reflect on Experience
Success Metric: Form Completion Rate
Touchpoint: CUCOH Website (mobile)
At the conclusion of the award ceremony, but before the final Keynote, the CUCOH chairs address all delegates and thank them for coming to our conference. After explaining the importance of delegate feedback, both good and bad, and how the feedback from previous years have gone on to create the conference they experienced this year, they let our delegates know that the CUCOH Hub has been updated to include access to our feedback form. After their final remarks, the final keynote speaker takes the stage which serves as the closing moment of Rachel's conference experience.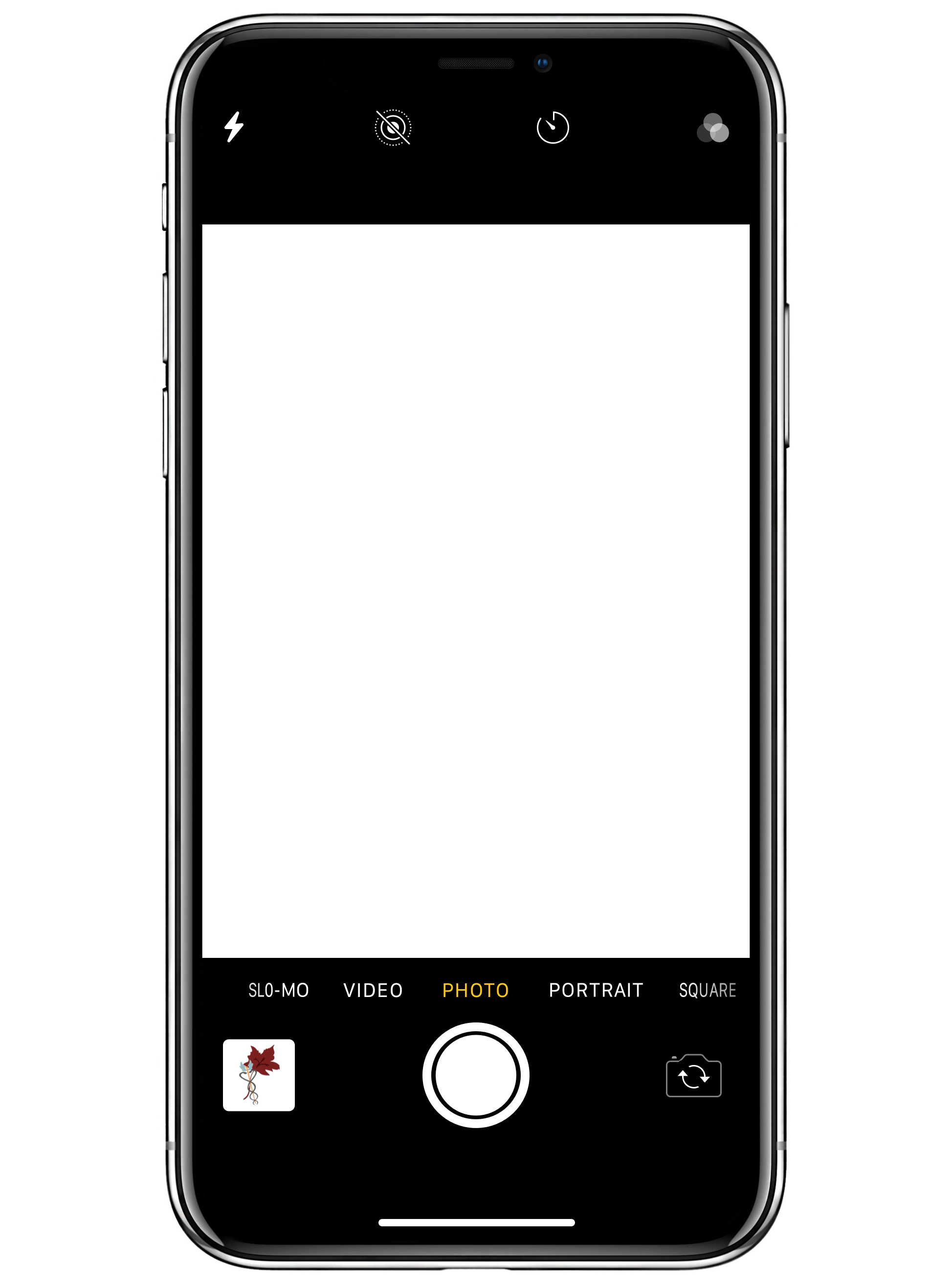 Touchpoint: Typeform
Having thoroughly enjoyed her CUCOH experience, Rachel decides to fill out the feedback form while on the long bus ride home from Kingston, Ontario back to McGill University. Rachel opens the CUCOH Hub for the last time and clicks on the Feedback button.
Once clicking on the button, she is redirected to a mobile-optimized form that feels like a conversation where she is able to indicate which experiences she attended, how she felt about them individually and overall, and lastly, how likely she would be to recommend our conference to her friends or peers.
At the conclusion of the form she is thanked for spending the time providing feedback and is given the option to follow our social media channels and join a mailing list for potentially becoming an external ambassador for next years' conference.
Goal: Share EXPERIENCE
Success Metric: NPS & Mailing List Sign-up
Channel: Word of Mouth
Since Rachel had an amazing time at CUCOH, she both opts to sign-up for the external ambassador mailing list and likes our CUCOH page. By opting into these channels, and showing interest in becoming a brand ambassador for our conference, Rachel is able to take on a similar role to Joshua (past delegate) in promoting the conference. Under this position and through sharing her positive experience, she could influence a new delegate, such as Kristie (new delegate) into becoming a delegate herself.
However, if Rachel didn't have as great of a time at CUCOH, much like Anna's (past delegate) experience, she likely wouldn't sign-up for the mailing list or like our page, she might not even take the time to fill out the feedback form. Luckily, since she had signed up for our conference once before, our team could send out one last hail-mary to all past delegates by highlighting all the new changes of our conference that were learned through feedback that might alleviate the exact problems they had with our conference.
Even if a delegate like Anna still doesn't intend on coming back to our conference in spite of the knowledge of these potential changes, if someone like Kristie were to ask her if it is worth going, it could turn her recommendation from a "definitely not" into a "maybe, given the changes" which at the very least sets up a potential delegate to do their own research to see for themselves.
At this current point in time we are still in the structuring phase for the upcoming CUCOH 2019 conference that takes place in November so the results of all these new systems and processes haven't been fully realized. Despite having no data on the current iteration of our conference systems and processes, previous changes have shown promise and positive feedback.
Most notably, our conversion rate (total number of people who started filling out the registration form divided by the number who completed it) rose from 22.7% in 2017 to 34.9% in 2018 and just last year the highest rated aspect of our entire conference with a 4.51 rating was our registration process (the bulk of what I have been working on).
Going forward for this year I will be finishing the designs of our touch points with feedback from our external ambassadors and handling the feedback and analytic tracking of our conference. This should ensure our executive teams going forward have a benchmark for how our conference is doing (net promoter score) and have real actionable insights to use in continuing to improve our conference before I pass on the torch and move on (for real this time) to other projects.
What started as a simple problem of just wanting to help people feel confident in what they were spending their money on snowballed into a deeper understanding of creating something that is truly user-centric.
By building our conference systems and processes around the delegate experience for each step we are not only creating a conference that more closely aligns to what our delegates want, but we are simultaneously influencing that word of mouth channel we don't directly control when people hear about our conference from their friends.
If we step back even further though, this whole process is applicable to more than just an undergraduate conference on healthcare. These same systems and processes, albeit adjusted, could potentially be used to improve how a company interacts with their customers, or how inventory is allocated and tracked, and much more! In conclusion, I can't wait to draw from this knowledge in approaching new challenges in the future.